A "candid" photo VP Leni Robredo catching a sleep on the airport bench while waiting for their flight to the US to attend the graduation of her daughter Jillian has created quite a buzz online.
SPONSORED BY:
The photo of the sleeping Leni Robredo was posted by the FB page Matang Aguila Publication News Online yesterday, Sunday, May 15th 2022.
The FB page was called out by a certain Joan Chua who pointed out that the woman in the photo isn't Leni Robredo but one of her daughters for attributing the sleeping lady at the airport to Leni Robredo.
That's not the veep, that's her daughter….. please get your facts right. There's a photo of them boarding, I can't seem to attached here, but that's not the VP definitely. Tama na ang drama, tapos na campaign period at eleksyon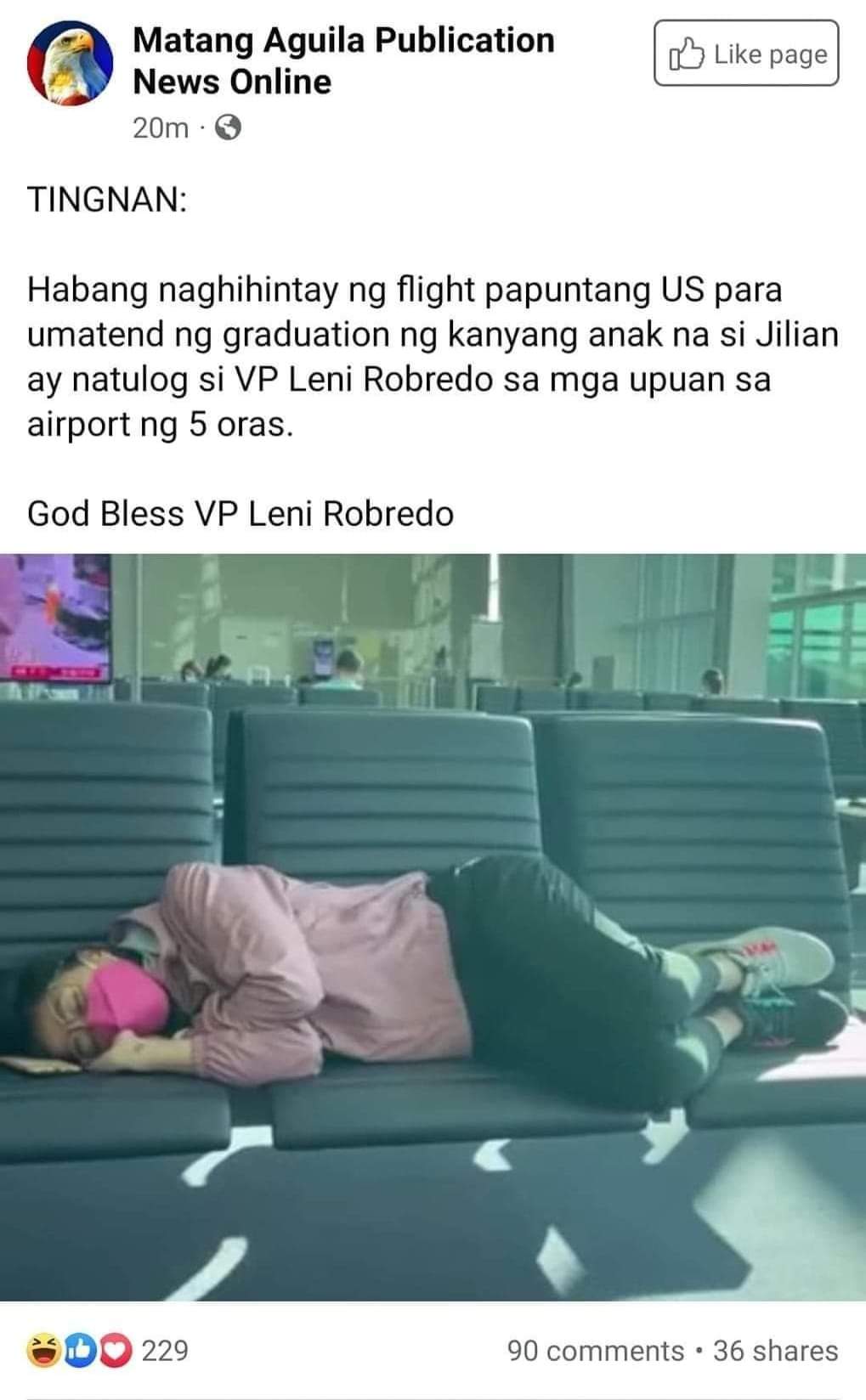 However, radio host and Robredo critic Mark Lopez took to Facebook, criticizing VP Leni Robredo, regardless if she was the one captured sleeping on the airport bench or not.
Lopez remarked that Leni Robredo is on the way out or leaving and yet she can't stop making drama and of all places in the airport.
Lopez asked if Robredo is still in the campaign mode by making it appear that she is just an ordinary traveler or akin to an OFW?
Pretending she slept in the waiting area? Lopez asked.
Lopez said this is the reason why she lost and lost big time. Too much fakery and over the top hypocrisy.
Lopez isn't buying the sleeping on the airport drama of Leni Robredo (some netizen pointed out the sleeping lady is either Jillian or Aika) because the PSG won't allow her to sleep in that condition. As if there is no VIP lounge for somebody like Leni Robredo? Lopez asked.
Lopez called the Leni Robredo sleeping pose as just another photo-ops hence the media quickly reposted it on their social media pages.
Lopez ended the FB rant telling Robredo to face it that she does not what it takes to lead, the gravitas, the aura of a leader no matter how hard she try.
You may now read Mark Lopez's original FB post below.
Pasensya na ha at hindi pa ako magnanimous.
Especially dahil paalis na lang, may drama pa sa Airport na ginawa.
I mean, seriously, nangangampanya pa rin by making it appear na ordinary traveler o parang OFW?
Kunwari nakatulog pa sa waiting area?
Naman Madumb!
This is exactly the reason why you lost, and lost big time.
SPONSORED BY:
Too much fakery. Over the top hypocrisy.
As if naman ung naka assign sa iyong PSG (being incumbent VP) eh papayag sa ganyang condition mo? As if walang VIP lounge ang airport para sa mga katulad mo?
Pucha naman pang photo ops lang ang posing na yun. Kaya nga labas kagad ng mainstream media eh.
Face it Madumb, you really do not have what it takes to lead. You don't have that gravitas. You don't exude that leadership aura, no matter how hard you try.
Why?
Because you are so fake.
Edit: Here's the photo shared by DWIZ 882 showing Robredo indeed checked in the VIP Lounge of the airport.
Reaction?
Source: Mark Lopez